When Razer announced the "mid-2021" Blade 15 Advanced back in May, it seemed like a standard refresh. The company swapped out the 10th-Gen Intel CPUs in the "early-2021" model for 11th-Gen processors and added a new anti-fingerprint coating to the chassis. No big deal, right? Wrong — that 11th-Gen processor has allowed Razer to upgrade just about everything under the hood of the latest Advanced model, leading to a huge performance uplift.
The switch to 11th-Gen Intel adds support for faster storage, faster RAM, and better connectivity, all while improving overall performance in every single benchmark that we've run.
Since we've already reviewed several Razer Blade laptops on PetaPixel in the past –including the AMD Ryzen-based Blade 14 just last month — this is going to be a fairly straightforward review. I won't spend much time on the Blade's build quality or explain (again) why I approve of Razer trading a little bit of performance for a thin, sleek design that is, therefore, harder to cool.
The main point of this review is to compare the latest Blade 15 Advanced with the 11th-Gen Intel Core i9-11900H against the previous model that maxed out at a 10th-Gen Core i7-10875H and the ASUS G14 with the excellent AMD Ryzen 9 5900HS. I was lucky enough to have all three laptops on hand during this review, which allowed me to evaluate just how much the Blade 15 Advanced has improved with this one internal upgrade, and whether or not that upgrade alone makes the Blade 15 Advanced a worthwhile purchase.
Our review unit is the most expensive variant of the Blade 15 Advanced, which comes with the aforementioned Core i9 processor, NVIDIA RTX 3080 GPU with 16GB of VRAM (95W variant), 32GB of 3200MHz RAM, 1TB of PCIe 4.0 NVMe M.2 storage, and a 60Hz 4K OLED display that supposedly covers 100% of the DCI-P3 color gamut.
Weighing in at $3,400, it's definitely not a cheap computer, but it's also not outrageously priced given the quality of the hardware and the build quality of the computer itself.
Design and Build Quality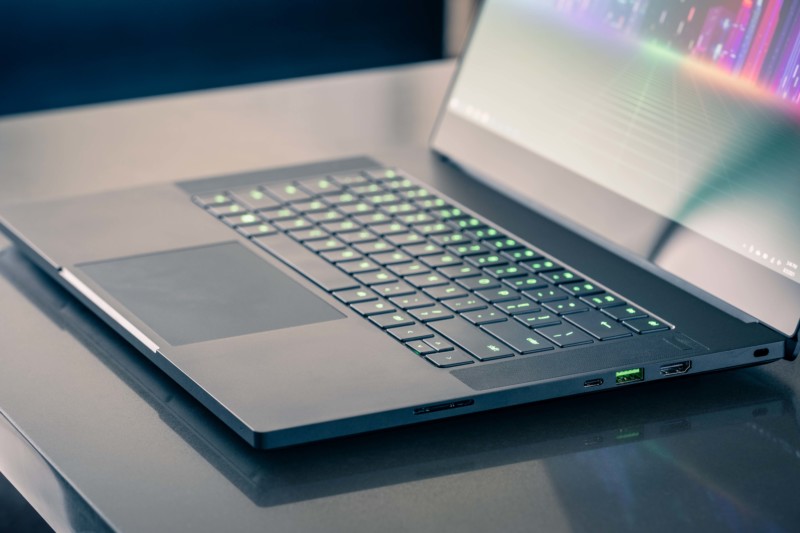 In terms of design and build quality, the latest Blade 15 Advanced is essentially identical to every other Razer laptop we've reviewed. Check out our review of the Blade 14 or the Blade Studio Edition if you want a deeper dive.
Suffice it to say that Razer puts a lot of emphasis on the strength and sleekness of this aluminum unibody design, opting for high-end components and a thin, rigid chassis that I personally quite like. I'll touch on the performance trade-off further down, but in terms of design, the keyboard is still excellent, the trackpad is still one of the smoothest and most responsive on the market, and the overall fit-and-finish is still Apple-esque in its attention to detail.
As such, I'm only going to call out four design elements from the mid-2021 Blade 15 Advanced. In order of importance, we have: the excellent OLED display, the improved port selection, the Full HD webcam, and the new anti-fingerprint coating.
The Display
The most expensive (and only the most expensive) variant of the Blade 15 Advanced comes with an excellent 4K OLED display that claims 100% coverage of the DCI-P3 color gamut. In our testing, the display only fell 1% short of that claim and did so with an excellent Delta E 2000 of less than 1. Anything below a Delta E of 2 is considered invisible to the human eye, and less than 1 is on par with the best displays we've ever tested.
As a bonus, it also covers nearly 98% of the AdobeRGB color gamut, making this one of the best laptop displays we have ever tested, even among 4K OLEDs.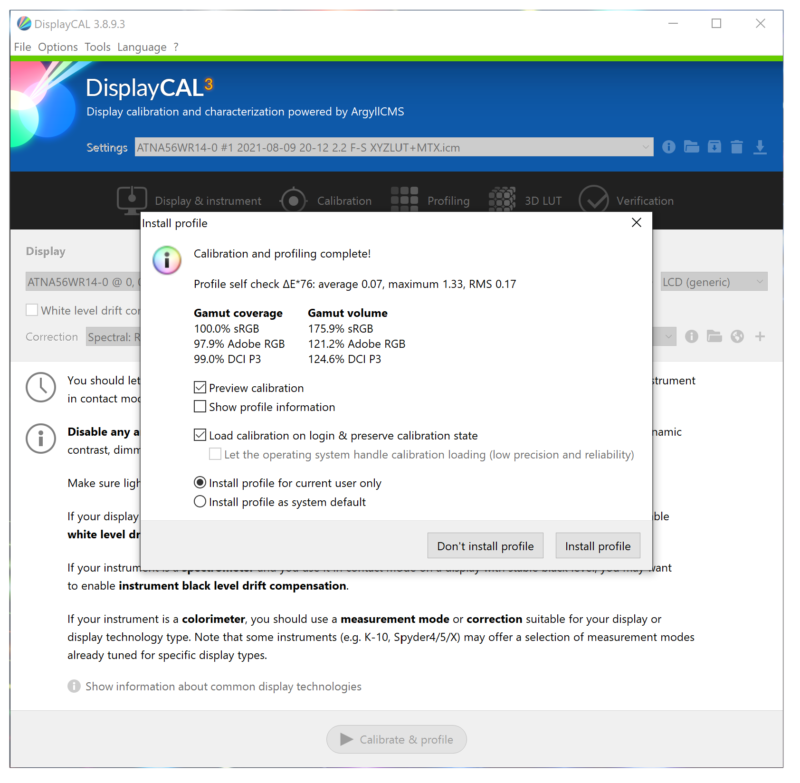 This is a significant improvement over the previous 4K OLED in last year's Blade, which managed a full 100% of DCI-P3 but only 90% of AdobeRGB in my testing. That's significant for photographers who prefer to work in Adobe's color space rather than the cinema-standard DCI-P3.
Improved Port Selection
Razer also improved the port selection on the new Blade Advanced. You're still looking at three USB Type-A ports, two USB Type-C ports, an HDMI 2.1 port, an audio jack, and a UHS-III SD Card slot, but instead of one Thunderbolt 3 and USB-C 3.2 Gen 2 port, you now get two Thunderbolt 4 ports, one on each side of the computer.
That gives you two ports that can transfer data at 40Gbps, charge the device, and/or drive external displays up to 8K resolution at 30Hz uncompressed or 60Hz with Display Stream Compression (DSC).
For professional, color-critical workflows that rely on Thunderbolt, having two TB4 ports is a huge benefit. I also like it because the previous model had no markings on the chassis to tell you which USB-C port was Thunderbolt and which wasn't. Consider this the best way to say the problem has been solved.
Full HD Webcam
The vast majority of laptops, including extremely expensive top-shelf models, still use god-awful 720p webcams that have no business existing in the year 2021. I understand not spending a ridiculous amount of money putting a nice camera inside of a thin laptop bezel, but given the massive shift from office work to work-from-home, a nice webcam is practically a necessity.
The mid-2021 Blade 15 Advanced trades that poor 720p webcam for a 1080p Full HD camera that looks significantly better, without giving up nice-to-have features like Windows Hello facial recognition.
Anti-fingerprint Coating
The last and least important update was the addition of an anti-fingerprint coating. It seems silly to even mention it, but the previous model was just SO bad that I have to call this out. The moment you started using any previous Blade laptop with a black coating it was covered in smudges and fingerprints, making me wish that Razer offered a silver version of the Advanced model.
The new anti-fingerprint coating is not perfect, and I do still wish that there was a silver version of the Blade 15 Base and Advanced models, but the new coating represents a huge improvement over that fingerprint magnet that Razer used to use.
Photo Editing Performance
The main criticism leveled at Razer over the years is that it prioritize style over substance. By choosing to make the Blade laptops ever thinner, it is difficult to properly cool the components inside and so you either have to thermally throttle your CPU and GPU, or you have to go with a less powerful variant of the same.
To some extent, this is still the case with the latest Blade 15 Advanced.
In exchange for that sleek aluminum unibody design, you're limited to a Core i9-11900H instead of the more powerful i9-11980HK you'll find in top-tier gaming laptops, and the Blade uses the 95-105W variant of the NVIDIA RTX 3080 GPU instead of the maxed out 155-165W card that some beefier options are able to support. Personally, I've always thought that this trade-off is worth it (possibly because I've used Apple computers for so long), but still wanted to mention it.
If you're looking for a laptop that prioritizes performance above and beyond all else, there are other options out there. Just be prepared for a bulkier, louder laptop that won't put as much emphasis on design and build quality.
That said, the mid-2021 Blade 15 Advanced is no slouch in the performance department. In fact, it's downright excellent. The upgrade to 11th-Gen Intel doesn't just mean a faster CPU with a larger built-in cache, the new Blade 15 also supports up to 4TB of faster PCIe 4.0 storage and up to 64GB of faster 3200MHz RAM. And since the 11th-gen chips run a little bit cooler, the mid-2015 Blade is able to push the GPU a little bit harder, boosting to a TGP of 105W instead of 95W.
All of this together translates into a huge performance uplift in every benchmark we've run: Lightroom Classic, Photoshop, and Capture One 21 all benefit. For the benchmarks below, we tested three machines: the early-2021 Blade 15 Advanced, the 2021 ASUS Zephyrus G14, and the new mid-2021 Blade 15 Advanced.
Full specifications below:
Lightroom Classic
Import, preview generation, and export all see big gains with the latest Blade 15. Previously, the ASUS G14 was the fastest laptop we'd tested in Lightroom Classic thanks to the AMD Ryzen 9 CPU and that laptops's support for faster 3200MHz RAM. Now that Intel has caught up, the latest Blade 15 doesn't just match the Ryzen 9 5900HS, it exceeds it.
First, we imported and generated 1:1 previews, using 110 Sony a7R IV and 150 PhaseOne XF RAW files:
The results were kind of shocking, but we ran these tests a minimum of three times in a row on all three machines using the exact same settings. Ultimately, import and preview generation is heavily dependent on raw CPU performance, and the 11th-Gen i9 flexes serious muscle here.
We then applied a custom preset to each batch of RAW photos and exported them as both full-res 100% JPEGs and 16-bit TIFFs:
As you can see, the early-2021 Blade 15 can't quite keep up with the ASUS G14 despite the Core i7-10875H's crazy 5.1GHz boost clock. Being limited to 2933MHz RAM and struggling to stay cool inside the Blade's thin aluminum chassis, it falls short. According to Adobe, import, preview generation, and export do not use GPU acceleration in Lightroom Classic, so these numbers are all down to CPU, RAM amount, and RAM speed.
Capture One 21
When we run these same tests in Capture One 21, the mid-2021 Blade 15 Advanced yet again steals the crown from the ASUS G14 in all but one test, and outperforms the early-2021 model by a lot more than we initially expected.
As before, import generation sees a substantial boost. Although it's worth pointing out that Capture One is creating smaller 2560px previews, so these results are not comparable between programs:
In terms of export performance, the Blade makes a much bigger leap when encoding TIFFs as opposed to JPEGs. Exporting 100% JPEGs still saw a big jump, helping the Blade to (almost) match the ASUS G14, but when it comes to TIFFs the Blade reigns supreme:
Because Capture One is using hardware acceleration for both import/preview generation and export, the Blade 15 was always supposed to win this contest — it contains a beefier NVIDIA RTX 3080 with way more VRAM and at least 25W more power. Surprisingly, the early-2021 model lost to the ASUS G14 in every category, but now that the Intel CPU is pulling its own weight, we see the results we've always expected.
Photoshop
Last but certainly not least, Photoshop performance also benefits significantly from the faster CPU and faster RAM in the latest Blade 15 Advanced. We ran Puget Systems' excellent PugetBench benchmark (v0.8, the last version to include Photo Merge), and saw a significant improvement in every single category.
Despite the lower TurboBoost clock speed of the i9-11900H (4.9GHz instead of 5.1GHz), the new CPU's faster base clock (2.5GHz instead of 2.3GHz), increased CPU cache (24MB instead of 16MB), and support for 3200MHz RAM helps the mid-2021 Blade 15 Advanced earn the highest score we've ever seen from any computer we've tested, including the M1 Mac mini.
As a reminder, the scores break down into an Overall scores and four category scores: General, GPU, Filter, and Photo Merge: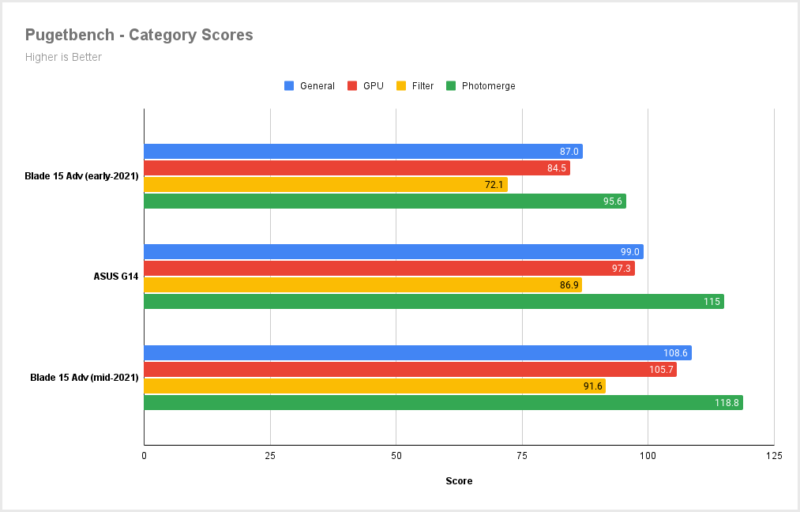 I'm no huge fan of the Intel versus AMD discussion — just give me the one that works best — but it's not an exaggeration to say that the 11th-Gen Core i9 has transformed the mid-2021 Blade 15 Advanced into a much better value than the early-2021 model. The new CPU has allowed Razer to produce a lot more performance out of the same exact chassis. That's no small feat.
As a bonus, it puts some pressure on AMD, who has been kicking Intel's butt all over the playground for the last couple of years. If the performance above is anything to judge by, Intel is finally ready to strike back.
A Huge Performance Leap
On the surface, the upgrade from the "early-2021" version of the Blade 15 Advanced to the "mid-2021" version seems pretty minor — jumping up to the latest generation of Intel processor doesn't always mean much. But in this particular case, it has totally transformed this computer.
We were already fans of Razer's design and build quality, and occasionally cut the Blade series a bit of slack on that account, but this latest build doesn't really require us to do that. Thanks to the faster CPU, faster RAM, faster storage, better display, and better ports, there is very little to legitimately complain about.
Pros
Much faster CPU
Support for up to 64GB of 3200MHz RAM
Support for up to 4TB of PCIe 4.0 NVMe storage via two M.2 slots
Exceptional 4K OLED display with excellent coverage of both DCI-P3 and AdobeRGB
Extensive I/O with HDMI 2.1, two Thunderbolt 4 Ports, and a UHS-III SD card slot
1080p Full HD webcam with Windows Hello support
New anti-fingerprint coating
Cons
Poor battery life when doing serious computing
OLED display only available on most expensive model
Core i9 CPU only available on most expensive model
Expensive
I've said it before and I'll say it again: if you're looking for the best combination of price-to-performance, then a Blade laptop probably isn't for you. You can almost always cobble together the same CPU, GPU, RAM, storage, etc. in a cheaper chassis for a little less money. But you're going to give up a lot more than you realize when you chase affordability or prioritize specs like a 165W TGP and an ever-so-slightly faster CPU.
To me, a slight decrease in overall performance — probably meager when it comes to photo and video editing application — compared to the top-shelf gaming PCs on the market is worth it when you factor in the quality of key components like the display, the keyboard, the trackpad, the webcam, and the I/O.
But the TL;DR comes down to this: with the release of the mid-2021 Razer Blade 15 Advanced, Razer has added way more than $100 worth of performance for only $100 more in MSRP.
Are There Alternatives?
Every time Intel unveils its latest generation of CPUs, you can expect most PC makers to release updated versions of flagship laptops. That's what happen with the "mid-2021" Razer Blade 15 Advanced, which was joined by alternatives like the latest MSI GS76 Stealth or the latest Dell XPS 17. These two models in particular feature 4K UHD displays that claim 100% coverage of Adobe RGB, making them both a solid choice for content creation.
If you want to go even more powerful, you can go with something like the Lenovo Legion 7i Gen 6, Alienware x17, or MSI GE76 Raider, which all feature the more powerful i9-11980HK CPU and an NVIDIA RTX 3080 GPU that can handle 155W – 165W of juice — that's pretty much the most powerful GPU you can currently put in a laptop until you start cramming in desktop components and adding a second AC adapter. Unfortunately, of these three options, only the Alienware x17 features a color-accurate 4K display; the other two use high-refresh-rate Full HD displays that are aimed at gamers, not creative professionals.
Finally, another great option is to go with an AMD Ryzen system like the ASUS Zephyrus G14 we tested, its big brother the ASUS Zephyrus G15, the Lenovo Legion 7 or Legion Slim 7, or Razer's own Blade 14. All of these are fantastic options, but pay attention to the display configuration since most offer a choice between a high-refresh-rate Full HD display with 100% sRGB coverage, or a slower but more color-accurate QHD display that can covers 100% of DCI-P3.
Should You Buy It?
Yes.
With the early-2021 model of the Blade 15 Advanced, we were on the fence. With faster, cheaper, cooler processors like the Ryzen 9 5900HS and HX often selling in computers there were $500 to $1,000 cheaper, the entire justification for going Razer came down to design, build quality, and usability.
With the addition of an 11th-Gen Intel CPU, an even better OLED display that covers over 97% of both DCI-P3 and AdobeRGB, faster memory, faster storage, and a killer port selection, the mid-2021 Blade 15 Advanced is no longer "on the fence." It's actually a great value for the hardware that's packed inside.
At the time of publication, I have no problem recommending the $3,400 model to any creative who wants a professional-grade laptop and/or desktop replacement.