New developments in web hosting technology now allow businesses the option of hosting their websites on a more secure and dedicated environment than shared hosting. A newly-launched product called "Quantum" helps web developers take advantage of this new technology.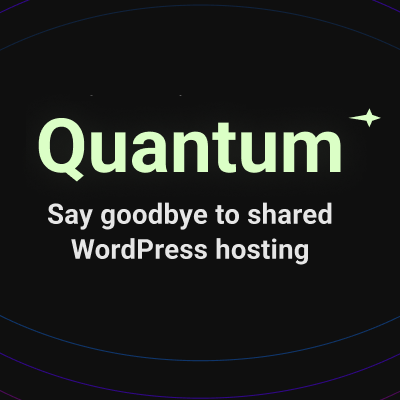 Birmingham,United States – November 10, 2022 —
On October 20, 2022, WPMU DEV, a WordPress services company, launched an entirely new business product called "Quantum" to help their resellers take advantage of a new kind of web hosting technology.
For many businesses with small or limited IT budgets, shared hosting has been the only viable option for hosting their websites.
According to James Farmer, CEO of WPMU DEV, however, the problem with shared hosting is that "every site shares the same IP address, every site is vulnerable to one of the other sites hogging all the resources, every site can be damaged by one hack, every site is in the same location. We know this because we've surveyed our members at length and – even though nobody likes it – it's hard to argue with that cost per site, especially when compared to standard managed WordPress hosting costs."
As a managed WordPress hosting provider with a member base of over 50,000 active web developers managing tens of thousands of business websites for their clients, WPMU DEV is largely user-driven and develops innovative solutions to help their members run more efficient businesses and overcome their challenges.
One of these challenges has been offering their members-many of whom are resellers of WPMU DEV's products and services-a hosting product that is more secure and as affordable as shared hosting. The reason being, many of WPMU DEV's members service clients with basic website needs, or operate in countries with struggling economies, making it hard to compete with the price of shared hosting plans.
Until now, that is. With Quantum hosting, WPMU DEV is able to introduce businesses using WordPress-powered websites to dedicated, fast, managed WordPress hosting where every website lives in its own fully secure, compartmentalized, and optimized virtual server, and is given its own dedicated IP address, plus access to many of WPMU DEV's advanced hosting features, including domain email, SSL certificate, a suite of premium plugins, and access to their award-winning 24/7 support team, all for a flat $4 per month, or $3.60 per month if members prepay.
In order to deliver a higher quality hosting product at such a low price, WPMU DEV was willing to forego any profit margins on the Quantum plan and offer this option to members at cost, provided they are on WPMU DEV's Agency membership plan ($82.50 per month).
Replying to questions on the members' forum about Quantum, Savo Vujovic, Head of Business Development at WPMU DEV replied that "one of the main purposes of this plan is to complement our upcoming Reseller project. It will allow members to create another tier of hosting for their reseller package to compete with shared hosting pricing. We're selling this droplet at cost, with no gain, so Reseller packages are as competitive as possible."
CEO James Farmer adds further to the above, that "the real benefit and value for agencies managing multiple client websites can be seen when you compare the price of hosting, say, 20 sites on Quantum vs Shared hosting. Agencies are looking at spending $100-$400/month for shared, insecure, slow, single IP, single location, 2002 hosting technology versus $80 per/month to put their clients on dedicated, secure, fast, individual IPs, multiple locations, 2022 tech hosting. Quantum is clearly a win-win for agencies and their clients."
While Quantum is only available to Agency-level members, their Agency plan includes $12 per month of hosting credits, so members can effectively host three websites on the Quantum plan each month at no additional cost.
Given the complex requirements of a dedicated hosting environment WPMU DEV has specified some constraints to its Quantum plan in order to provide sites sufficient space and resources.
According to WPMU DEV's hosting engineers, "Quantum is built to be light, fast and work with any WordPress theme and theme builder. It is ideally suited for straightforward sites that don't require complex staging environments, don't need to run WooCommerce, and aren't expected to need dozens of plugins."
For more information on WPMU DEV's Quantum hosting, visit: https://wpmudev.com/quantum-hosting/ or contact the company using the details below.
Contact Info:
Name: Savo Vujovic
Email: Send Email
Organization: WPMU DEV
Address: PO Box 548 #88100, Birmingham, AL 35201, United States
Phone: +1-888-963-9528
Website: https://wpmudev.com
Release ID: 89084631
If you detect any issues, problems, or errors in this press release content, kindly contact [email protected] to notify us. We will respond and rectify the situation in the next 8 hours.
COMTEX_418551941/2773/2022-11-10T09:05:17
https://www.digitaljournal.com/pr/new-wordpress-quantum-web-hosting-offers-resellers-shared-hosting-alternative