The university also regrets its silence in the decades since the protests: "It should not have taken more than 50 years to acknowledge the wrongs."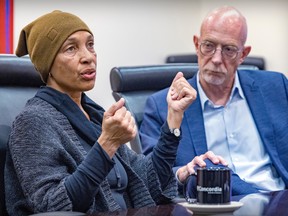 Article content
Half a century after complaints of discrimination against a faculty member led to the largest anti-Black racism student protest in Canadian history, Concordia University issued a formal apology for its role in the affair.
Article content
The protest, which came to be known as the Computer Riots after students occupied what was then Sir George Williams University's computer lab for 14 days in 1969, culminated with the arrest of 97 protesters, the destruction of $2 million in computer equipment and a legacy of resentment and anger on the part of Montreal's Black community toward the university that lingers to this day.
Article content
In a public address delivered Friday, Concordia University president Graham Carr said the university failed to address Black students' complaints of racism for a year leading up to sit-in, then called in the police. The arrests and suppression of the protests "had serious lasting consequences for many individuals. These ranged from jail sentences to deportation, psychological trauma, physical injury, social alienation, loss of employment and the disruption of — even to the point of not finishing — academic degrees.
Article content
"Sadly, the university's actions and inactions were a stark manifestation of institutional racism," Carr said. "Concordia University, with the support of its board of governors, apologizes for the decisions and actions of university leaders at the time. We also apologize for the harm that was caused to Black students at the university and for the negative impact felt by Black communities in Montreal and beyond. …
"In addition, we deeply regret our silence in the decades since the protest. That silence has contributed to a deterioration of trust and a breach in Concordia's ties with Black communities. It should not have taken more than 50 years to acknowledge the wrongs."
The protest was spurred by the complaints of more than a dozen Black West Indian students at Sir George Williams University, which merged with Loyola College to form Concordia University in 1974. In 1968, they complained of racism by a lecturer in the biology department and made repeated requests for hearings, but were rebuffed, ultimately spurring about 200 protesters to occupy the computer centre on the ninth floor of the Henry F. Hall Building in late January 1969. When an agreement to settle the protest collapsed, the university turned to the police. A riot squad moved in to make arrests. A fire was set and computer equipment vandalized. The arrests, coupled with the university's reaction and the demonization of the student protesters, had lasting effects.
Article content
Rodney John was one of the students to file complaints against the lecturer, Perry Anderson, citing examples of how Black students who submitted identical work to that of their white peers received lower grades. Media reports portrayed them as students who were demonstrating because they weren't capable of achieving good grades. The effects of that prejudice and the aftermath of the protest haunt him to this day.
"I have five university degrees, including a PhD and two masters," he told the audience at Concordia University. "Yet today, I feel unfulfilled, because at the university, what I wanted to do with my life was directed by the arbitrary judgements of a white man.
"And these arbitrary judgments of white people on people of colour occur to this day."
Article content
Lyne Murray recalled students being beaten by Montreal police and forced to lie in broken glass before their arrests. Like many, she was criminally charged, affecting her employment and academic prospects.
"This stain of a criminal record was tattooed on our lives lives forever for standing up for our rights and our dignity."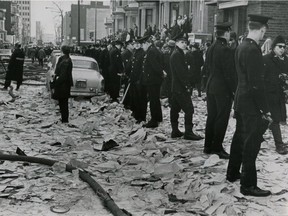 The apology was spurred by and coincides with Concordia University's release of its President's Task Force on Anti-Black Racism, a 97-page report two years in the making. It was mandated in the wake of the murder of George Floyd by a Minneapolis police officer in 2020 to address systemic anti-Black racism across university life and generate recommendations. More than 50 Black faculty, staff members and students organized into six subcommittees to conduct research and held dozens of consultations to understand anti-Black racism at the university.
Article content
Angélique Willkie, a Concordia professor who chaired the task force and is a special adviser to the provost on Black integration, said the investigations "revealed upsetting truths about how Black students, staff and faculty experience and navigate the university's opportunities, spaces, services and systems of rewards and recognition for their work and scholarship — oftentimes in disparate realities from their fellow students and colleagues."
The report outlines numerous recommendations, including altering practices to increase the hiring of Black faculty and staff and recruitment and graduation of Black students, improving access to mental health services for Black Concordians, and working to create a Black Canadian Studies program at the university.
Article content
First among the recommendations was to spur institutional change by addressing the legacy of the 1969 student protest.
Some Black students will go their entire university careers and say they have never experienced racism, she said. But others enumerated incidents ranging from hearing the N-word being said in a classroom to students saying: "I've been through my entire career at Concordia and never had a Black professor."
Others have noted how services, such as having mental health professionals on hand who are aware of the issues that Black students may be facing, are lacking.
Fo Niemi, executive director of the Montreal based Center for Research-Action on Race Relations (CRARR), applauded the report, saying it should become a model for other universities in Quebec.
Article content
"However, what is rather concerning is the complete absence of references to Concordia's legal obligations on employment equity, as required by Quebec's Law 143," which applies to all universities, colleges and school boards, among others, Niemi said. "All employment issues and initiatives identified in the report should have been examined through the lens of employment equity in order to bring about real systemic reviews of current employment practices."
On Friday, the university pledged to act on several of the recommendations made in the report, including:
Hiring a faculty member to lead program development in Black and African Diaspora Studies
Removing the name of D.B. Clarke, who was principal of Sir George Williams University in 1968-69, from its main theatre
Creating more opportunities for Black graduate students and researchers
Increasing the university's library collections to further support research and curriculum
Providing anti-racism training and support across the university, including equipping managers and hiring committees with tools to address implicit bias in staff and faculty hiring
Installing a plaque in the Henry F. Hall Building and launching a commemorative webpage to ensure that the 1969 student protests and protesters are remembered
Brownstein: 1969 Sir George Williams protest a watershed moment

History Through Our Eyes: Feb. 12, 1969, the Sir George Williams affair

Graham Carr named new president of Concordia University

Documentary captures landmark moment in Canadian race relations
https://montrealgazette.com/news/local-news/concordia-embargoed-till-1-p-m-friday-oct-28