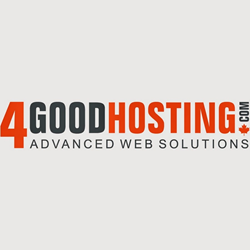 Web Hosting in Canada from 4GoodHosting comes with an opportunity to build a website in as little as 30 minutes.

VANCOUVER, British Columbia (PRWEB)
May 06, 2021
You don't need to have any web development skills at all to be able to build a website these days, as many web hosting providers in Canada and elsewhere are making a website builder available to their clients now. Top Canadian web hosting provider 4GoodHosting has had customers using their existing website builder for years now, but it is now replacing that option with a better one – a Sitepad website builder that is a major improvement in regard to what you're able to create with it.
Paired with affordable web hosting from the company these websites can be a cost-effective way for any new business, venture, or personal endeavor to get the visibility you want on the World Wide Web. But using this new website builder for web hosting customers may be the right choice for others who don't have the same concerns even.
That's because using the web hosting provider's Sitepad website builder can make websites that are much more impressive than people might expect. That's made possible by Sitepad and their:


Powerful design options that are easy to use with drag n' drop functionality that users say make it an easy-to-use website builder

500+ pre-made templates that let users choose a theme and start to quickly envision what their web pages are going to look like

70+ unique design widgets that can implement specific website design features with one touch

Full integration capability with most User CPs – including cPanel with 4GoodHosting web hosting in Canada

Fast-response customer support right when you need it
As mentioned, 4GoodHosting is offering a free demo of this new Sitepad website builder through its website, and you will almost certainly be able to build a website for yourself in that time. In fact, you'll likely build it and revise it a few times and you may well see the value in then continuing to use it after the free trial ends. The site.pro website builder is another one that's being offered by the web hosting company.
Anyone who wants a DIY website should take advantage of this offer and consider also enjoying the best in reliable VPS hosting in Canada that is also affordably priced. 4GoodHosting implemented new SSD servers in January of 2021 for better performance, lower power consumption, and data security afforded to customers.
Share article on social media or email: